Software for managing customer relationships (CRM) is an organized method for creating, fostering, and preserving fruitful interactions with customers. Every interaction and communication we have with our customers and clients are tracked and examined using CRM software.
This CRM software essentially gives the company a central pool to manage customer interactions, ensuring their simplicity, security, and scalability.
Every customer should be entered into the CRM tool's database with a few fields that can help the company identify its individuality so it can get in touch with them as needed. Tools for CRM software, therefore, improve customer relationships, interactions, and business profits.
Operational  tools for CRM, Analytical CRM, and Collaborative CRM are just a few of the many types of CRM software available that are selected based on customer needs.
Software for managing customer relationships keeps sales and contact information in one orderly, manageable location. Your  tools for CRM should record every touchpoint, including phone calls, emails, chats, web visits, social media connections, campaigns, etc. Why? Because every interaction is a chance to discover something new about your clients.
When it comes to Customer Service Software programs, each business has a different set of requirements, so we chose the ones we thought best captured those requirements.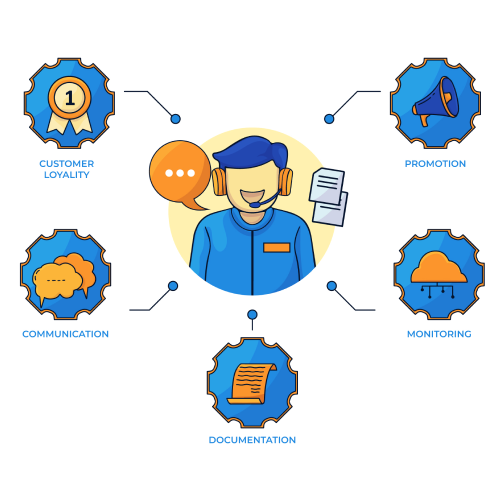 Easy To Access – It may be too much to ask of customer service software platforms to take the "don't make me think" approach to websites, but it's something to strive for. But not everything will be as simple. Mission accomplished if a user can log in the first time and get a good sense of how the basics work. For the more sophisticated features, it is essential to provide in-app instructions, definitions, and help content. An enhanced user experience is also facilitated by regularly accessible support and onboarding options.
Customer Sales Management – People are the lifeblood of your Customer Service Software and your company, so how you manage them is essential. How familiar are you with them? How can you learn more about them? Where should your sales efforts be focused? What's the most effective means of communication and contact? The contact and sales management capabilities of a CRM should be compatible with the purchasing habits of your ideal clients.
Customization – Your CRM software should function the same way your company does. Terms, data requirements, workflows, and the apps you use (see integrations below) are unique to your business. CRM software ought to be as flexible as possible to meet your business's needs.
Reporting – Without measurement, management is impossible. What do you intend to gauge? Consider forecasting sales. Your CRM should ideally be able to generate reports on every piece of data you can gather, including sales by a representative, sales cycle, average value, loss factors, and dozens more.
Automation and integrations – Process automation will boost employee productivity (and make them happier) and ensure that important tasks like communication don't get overlooked. A CRM can't do everything. The power of data collection can be increased and departmental functions can be connected through a wide range of third-party integrations, resulting in a more thorough customer profile.
So if you want to master these tools you have to pursue the advance digital marketing course from best digital marketing institute in digital marketing course you will learn more about CRM Software Brand Building and many more skills. 
Here are the 3 best CRM Software
Zoho CRM – Depending on the CRM plan you have, Zoho offers add-on suites for integration, including Finance, Custom Apps, and Forms, to name a few.
I'll concentrate on CRM Plus for this review because it best demonstrates scalability potential. The main CRM dashboard provides access to all of this edition's built-in channels, including projects, marketing, help desk, and social media. Click the settings icon and choose the channel to access the settings for any of these. For instance, to add social channels, go to Settings > Social > Social Channels and select Facebook, LinkedIn, Twitter, or Instagram from the list of available channels. With a few clicks, I quickly added my LinkedIn profile.
Pipedrive, a well-known sales CRM program, is a wise choice if you require simple-to-use software. Although the platform has lots of flexibility, its only objective is to aid salespeople in closing deals. Other apps with marketing or service features won't be available to divert your attention.
The UI of Pipedrive is simple, with all menu items located on the left, a search bar at the top, and an expandable menu on each page for adding deals, activities, leads, etc. quickly. Your mailbox is one of the choices on the menu. You can email directly from the inbox or contact record after connecting your email provider, tracking opens, and email history.
If your company sells goods, services, or memberships online, Ontraport has a wide range of features that can integrate the entire customer experience, from marketing to transactional sales and payment processing, cross-selling, and coupon codes, all the way to post-sale follow-up and nurturing.
It takes some getting used to using Ontraport because it differs from the majority of the other CRMs we've reviewed here. As an illustration, imagine that you click New Contact or New Deal, and the entire screen with its numerous fields and sections appears. You're unsure of the necessary fields to fill out, and there isn't a save button; all you have is a back button to exit. It turns out that all it takes to create a record is the entry of one piece of information (for example, the first name), followed by a backspace.
Conclusion – We discussed what are the Best CRM Software and how you use it according to your business. All three of these programs offer a variety of features that can help you better understand your customers. They allow you to track customer interactions, create profiles, and set up automated tasks. Check out these tools now to help you better understand your customers.