Once you've completed the on-page SEO checklist, it's time to move on to the off page SEO checklist. But you didn't know where to start. In other words, you can say that the off-page SEO technique refers to the different types of optimization techniques and strategies that are used to enhance your website's visibility to Google.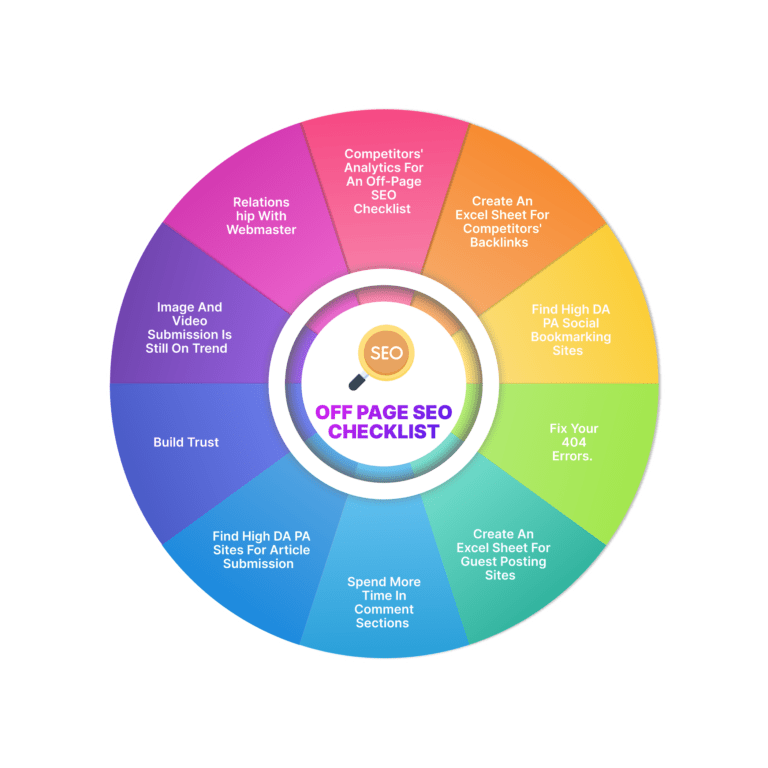 What is Off Page SEO?
Off page SEO techniques, also known as off-site SEO, is the process of increasing the popularity and reliability of your website by advertising it on other websites. Off-page SEO is also often termed off-site SEO.
Importance of OFF Page SEO Checklist 
The term "off-page SEO" describes activities that take place away from your website. Some frequent examples include communicating with your fans on social media, attracting links from other websites, and encouraging third parties to mention your page across the Internet.
These activities provide evidence that other people on the internet consider your website to be valuable. For instance, many search engines consider links to other websites to be recommendations for the content of your website. Because of these qualities, search engines are more likely to promote your site higher up in their ranks.
Here is the Simple Off page SEO checklist 
Competitors' Analytics for an off page SEO checklist

Create an Excel Sheet for Competitors' Backlinks 

Find High DA PA Social bookmarking sites 

Fix your 404 errors.

Create an Excel Sheet for Guest posting sites 

Spend more time in comment sections

Find High DA PA sites for article submission 

Build Trust 

Image and video submission is still on trend 

Relationship with webmaster 
1. Competitors' Analytics for an off page SEO checklist
An important component of off page SEO is competitor analysis because it enables you to gain an understanding of the tactics that your rivals are employing to boost the online exposure and ranking of their websites. You can acquire insights into what is working for your competitors and what you can do to improve your off page SEO methods by analyzing them and finding out what is working for them.
To get started with conducting a competition analysis, you will first need to identify the primary competitors you face in your market or specialty. You may find out which websites are ranking for the keywords that you are targeting by using tools such as Google Search Console or SEMrush. These tools are available for free online. So if you want to learn more about search engine optimization check out our short term digital marketing course to undersatnd google search engine.
2. 
Create an Excel Sheet for Competitors' Backlinks
First, create a strategy for social bookmarking sites and then find your competitor sites and find where your competitors created backlinks. You can use the ashraf tool for complete analytics for your competitor's backlinks sites. 
A powerful excel sheet is best for your competitor's backlinks analytics. Use google sheets for a better understanding of your competitor's backlinks analytics. here are the steps on how you create a google sheet for backlinks analytics 
Create a sheet name called competitor social bookmarking site and put all free competitors' sites on that sheet 

Now analyze your competitor sites where your competitor is missing to create backlinks on that site you have to create backlinks on that site example if your competitors have 440 backlinks you have to create 445 backlinks after doing this your website ranking will improve. 
3. Find High DA PA Social bookmarking sites 
The process of obtaining other websites to link to pages on your website is known as "link building." Backlinks are the term used to refer to these links in SEO.
The more backlinks a page has come from other websites that have a high level of authority, the more credible Google may view that page as being. Because of this, the page's rank may improve as a result.
The term "authority" refers to a metric that evaluates the overall quality of a website or webpage. A significant portion of it is determined by the number of high-quality backlinks that it possesses.
This means that you desire links from websites with a high level of authority. They are typically more valued, and having them can assist you in ranking higher. You can use the moz extension for checking the domain and page authority for that website.
5. 
Guest posting sites still effective
In the same way that you should clarify your reasons for commenting on blogs, you should also define why you are contributing in such a manner from the very beginning. The majority of guest bloggers use their posts to sell their company or product, which can make for reading that is repetitive, tedious, and spammy at times. Maintain integrity and make the provision of information that is timely, useful, and pertinent your top priority. Certainly not the hyperlinks leading to your website.
Not only will writing guest posts on occasion help you establish quality backlinks (duh!) and bring more organic traffic to your website, but it will also do something else for you. Writing not only on your blog but also contributing to others shows that you have a professional demeanor, therefore yes, you should be proud of it. Although it does not happen very often, certain businesses enjoy playing around with the knowledge that is provided by other professionals working in the same sector. And this is precisely the kind of situation in which you have to pick your companions with care.
6. Spend more time in comment sections
All websites may seem like a competition. You can generally identify specialized sites that aren't your direct competitors.
After finding these sites, comment on them. You can become an industry leader by regularly contributing positively.
Your contributions may attract site visitors to your profile and website. This visibility boosts visitor numbers and adds a new traffic source.
Many sites let you connect to your site in the comments. Off-page SEO requires every link, no matter how weak.
7. Find High DA PA sites for article submission 
 Article submission boosts website traffic and SEO. Submitting articles to high-quality websites with high Domain Authority (DA) and Page Authority (PA) maximizes rewards (PA). Ways to find such websites:
Moz's Open Site Explorer checks a website's DA, PA, and other metrics. Enter the website's URL to discover its DA and PA.
Check Google PageRank: Google has stopped PageRank, although it still gives a rough estimate of a website's authority. Check a website's PageRank with PageRank Checker.
Find niche sites: Search for high-DA and PA niche-related websites. Google's "site:" search operator finds domain-specific websites. Search "site:health.com" to find health-related websites.
8. Build Trust 
Off page SEO techniques naturally incorporate trust. You gain social media and customer votes that way. Building trust requires transparency. Post meaningful content, not clickbait. That doesn't build organic traffic!
Page Authority (PA) and Domain Authority (DA) are two essential metrics that show how search engines see your website. PA and DA are both measured in points. It's like having your entire life laid out in front of you right now. You need to use a site explorer tool to examine not only your PA and DA but also the ones for your incoming links.
SSL (Secure Sockets Layer) protects user-website interactions. This connection protects web server-browser data. When entering credit card numbers, usernames, passwords, or other sensitive information, users trust a site more when they see this encrypted link.
Business reviews may create and test user trust. Ask your consumers to rate you and leave a comment. Tell them why you need their public feedback on your services. More customers mean more reviews. Especially if you have a Facebook page where people may follow and review your business.
9. Image and video submission is still on trend 
Even if they watch others play, people like to play and experiment. Snapchat, Instagram, and Facebook use augmented reality to put motion graphics onto the real environment, which fascinates consumers. AR links to video and image.
Off page SEO techniques draw attention to your website by outbound activity unrelated to its content. Promote your business via films, podcasts, infographics, quotes, etc. Take Buzzfeed's Tasty or Tastemade. People adore the constant stream of videos. They probably get more likes, shares, and bookmarks than an SEO- and digital marketing-savvy blog piece. Back to our sheep, hub pages like Pinterest, Youtube, and others have high PageRank and credibility, therefore you should join them and use their platforms to promote your items. Their sharing and like/thumbs up/upvote method will raise brand recognition.
10. Relationship with webmaster 
It has been advised to you before, but you should cultivate friendships among the people whose work you love and whose path you hope to emulate in your professional life. Despite the fact that they have a rather packed agenda, they are typically willing to direct, motivate, and assist others.
Start connecting with them, impress them enough to make them share your content and you've won yourself some quality relationships. But beware, you have to make sure you don't overlook them in time, but always make sure to keep in touch with them, ask for their advice, and feature them in your pieces of content. This way, your content is more bound to be shared across their own personal social channels, than random content on your blog.
Conclusion 
One strategy is to write great content, make your website user-friendly and attractive, and promote it, and links and traffic will naturally follow. Build a reader-focused online presence and focus on searcher intent. Remember what we stated about on-page and off-page SEO? Successful off-page SEO follows effective on-page SEO. Here are the complete tips and guide for on-page SEO